Ballintogher 22nd Annual Festival – Dates 2019  :   from Tuesday 15th Oct to Sun. 27th Oct '19
Tue 15th – Irish Night
Fri. 18th Official Opening & Concert – featuring Humbert Suite composed by Michael Rooney with support from Creative Sligo 
Sat 19th Ceili – Swallows Tail Ceili Band 
Sun 20th Aifreann  11.30am  /  Music session
Sun. 27th Oct  ( 42nd )  Annual Feis – Competitions:-   Dancing CLRG/  Music/   Story /  Singing,
Sean Nos Dancing
Further details  –  contact  Teresa at teresamccorm@hotmail.com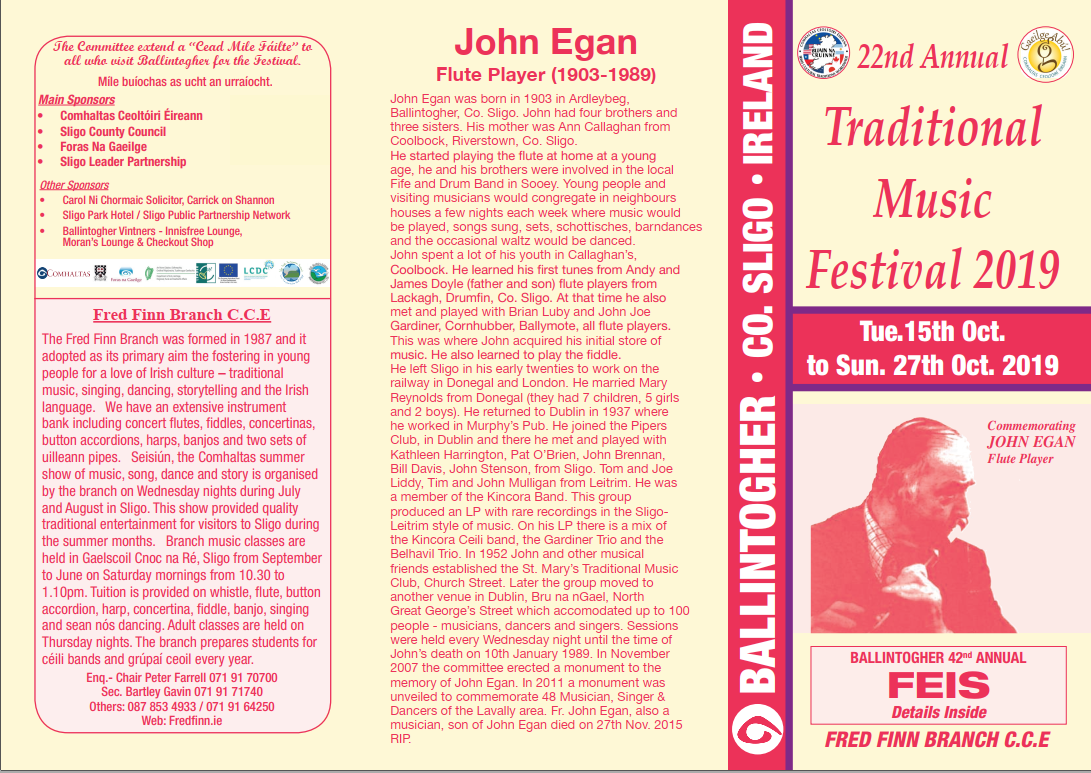 The Ballintogher Traditional Festival is held annually in Ballintogher in late October early November. The Festival features an annual Feis, traditional concert, céili, Irish night, set dancing night, commemoration of local musician John Egan, pub sessions, etc.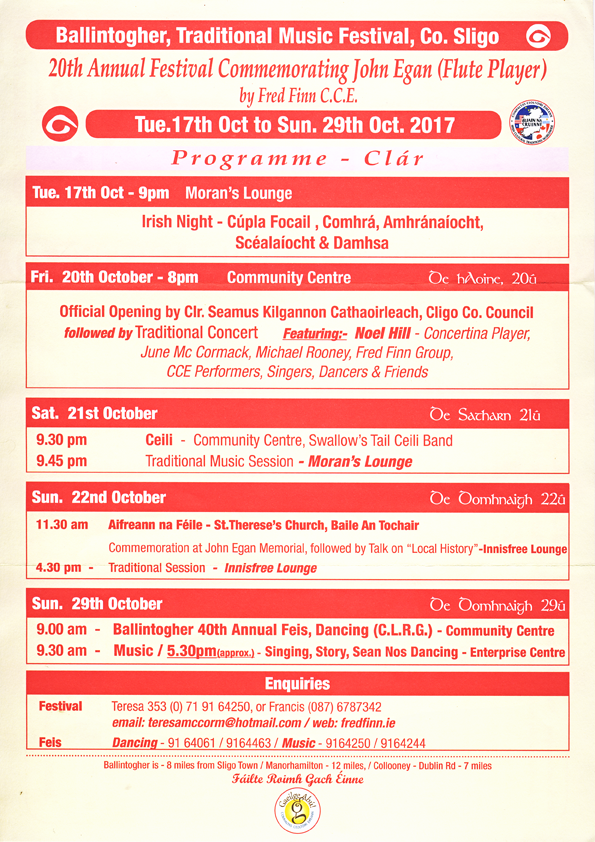 The 20th annual festival took from October 17th to October 29th this year. What started as a weekend event in 1998 has grown with events now ranging over two weeks. There has always been an emphasis on the Irish language during the festival and this year the Irish night had comhrá, amhránaíocht, scéalaíocht agus damhsa. The official opening was performed by Clr. Seamus Kilgannon, Chairman Sligo County Council on Friday October 20th followed by a concert featuring concertina player, Noel Hill, Michael Rooney, June McCormack, Fred Finn Seisiún Group and singers, dancers and musicians from the North West.
A unique item in the concert was the tune playing of two young musicians, Leo and Ava Kennedy, direct descendants of John Egan. Their dad Paul is a grandnephew of John Egan and lives in the townland of Ardleebeg. 
The Swallow's Tail Céili Band provided music for a céili on Saturday October 22nd . The annual Festival Mass took place on Sunday October 23rd followed by a ceremony at the John Egan monument in the village and a talk on local history in the Innisfree Lounge. There were music sessions in the pubs over the weekend. The festival concluded with Ballintogher Feis on Sunday October 29th – competitions in dancing, music, singing and storytelling. This was the fortieth year of the feis and this event was marked by the awarding of a special commemorative medal to every competitor.